Supporting Dementia Awareness Week 2019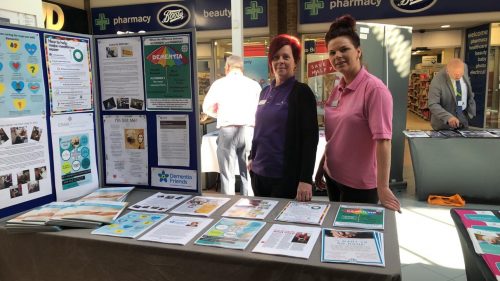 To promote Dementia Awareness Week, carers Kim and Louise at Cramlington House did their best to raise awareness of dementia care and the kind of dementia care we provide for those residents living with it.
Alongside the Alzheimer's Society, Home Instead and Dementia Care, we were there to answer any questions related to dementia, whether that's to do with care, support or advice.
Talking about the day, Louise said: "We had a really good day at Manor Walks, with lots of people from varying backgrounds approaching us for a chat. We met some lovely people and it was great to be able to answer their questions around dementia and dementia care and support."
A key focus of the afternoon was also to discuss and highlight the stigma that surrounds dementia, explaining how we need to challenge this stigma and encourage people who are affected by dementia, whether that's directly or not, to open up and talk about how they are feeling.
Kim added: "As part of the dementia awareness work we do, we are involved with a group that's aim is to make Cramlington a dementia friendly town, to improve the lives of residents in the town who are living with the condition. It's really important that we talk openly and honestly about the disease and break down barriers in communicating about it as this will help people to understand dementia better and how best to care for their loved ones living with it, or even themselves."
Our highlight of the day was definitely the sing song we took part in which attracted quite a large crowd who asked lots of important questions afterwards about dementia and received helpful information from us.
If you'd like to discuss dementia care with us or have any questions, please do give us a call on 01670 591 930.